Stop by if you are going to Arima Onsen!
Here are some spots nearby Agape Ohtsuru Museum to visit!!
Agape Ohtsuru Museum is just a 20-minute drive from the Arima Onsen area.
Please stop by if you are going to the Arima Onsen!
Why not relax at the onsen at nighttime and visit nearby areas in the daytime?
We introduce to you here some sight-seeing spots nearby!
Art Galleries and Museums
Brighten your senses with rich sensitivity and a look into a new world!
Nishinomiya City Kitayama Ryokuka Botanical Garden
Free entrance. From sakura, rose, hydrangea, to autumn leaves, you can see beautiful flowers throughout all seasons. The border flower beds, aquatic plants, herb garden, and kitchen garden areas are a must-see. There are facilities such as the Kitayama mountain retreats (sukiya-zukuri), greenhouse exhibitions, plant production research center, shorantei (a recreation of the「Rantei」in Shaoxing, China, where you can watch and learn about the newest plant information. With sounds of the birds chirping, you can take a walk and take a bento lunch break while interacting with botanical life.
Horie Orgel Museum
This is the only orgel museum in Japan registered in the Museum Act and exhibits over 330 orgels from all over the world. The garden is open to the public during the spring and autumn season (reservation required). You will be blown away by the beautiful sounds, the antique atmosphere, and the vast varieties exhibited. You can also learn the history of orgels, and look at different documents, gramophone, organs, automatic musical instruments, and mechanical dolls.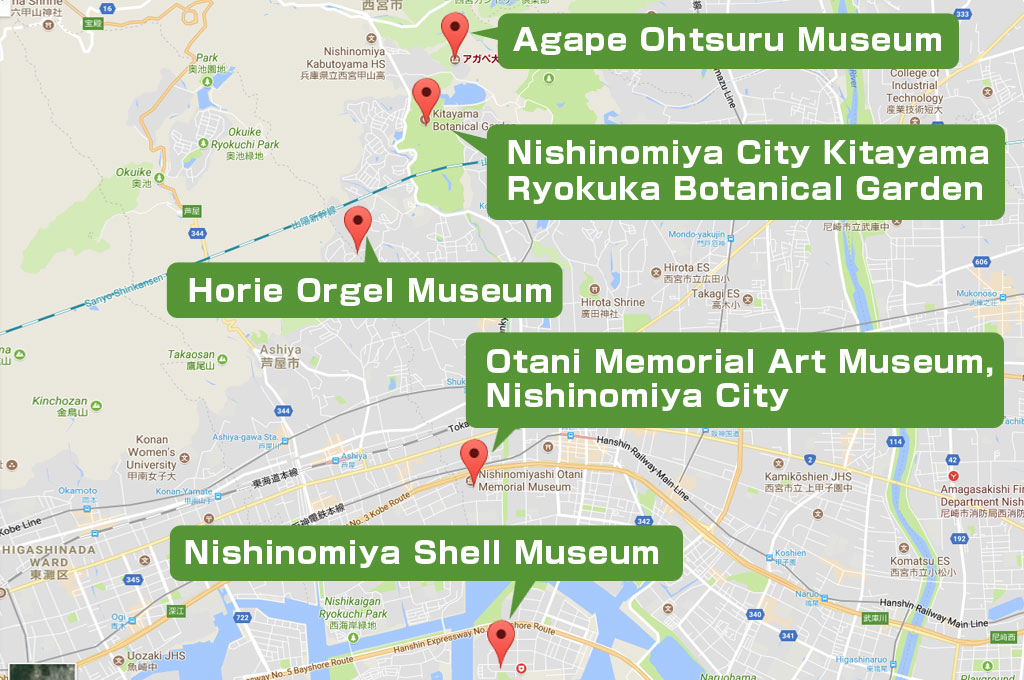 Otani Memorial Art Museum, Nishinomiya City
The city of Nishinomiya,after receiving residential land, building, and art pieces from the late Takejiro Otani, exhibits over 200 art pieces at this astounding art museum. The soothing traditional Japanese atmosphere of the building and the garden is a must-see.
Nishinomiya Shell Museum
Here, you can see beautiful shells from all over the world and live nautilus and sea angels. The exterior which resembles the sail of a yacht and the blue interior, which resembles the sea was designed by Tadao Ando. This is a one-of-a-kind shell museum with the concept of 「look, touch, and feel」.
Plans for kids
Let your heart and body grow with a fun experience!
Kidzania Koshien
The children here can challenge themselves to their dream job! This is only for kids, so parents may not interfere. The staff members teach the kids how to do their jobs in a serious manner and the kids gain a great learning experience from learning from their mistakes. They can experience working in society in a fun atmosphere!
Kabutoyama Forest Park
Here, you can enjoy a therapeutic walk in the forest, bird watching, and hiking. You can also enjoy a wonderful view from the observatory with a water fountain.
There are several playground equipment that the children can enjoy! Move your body in a natural atmosphere and you can refresh your body and mind!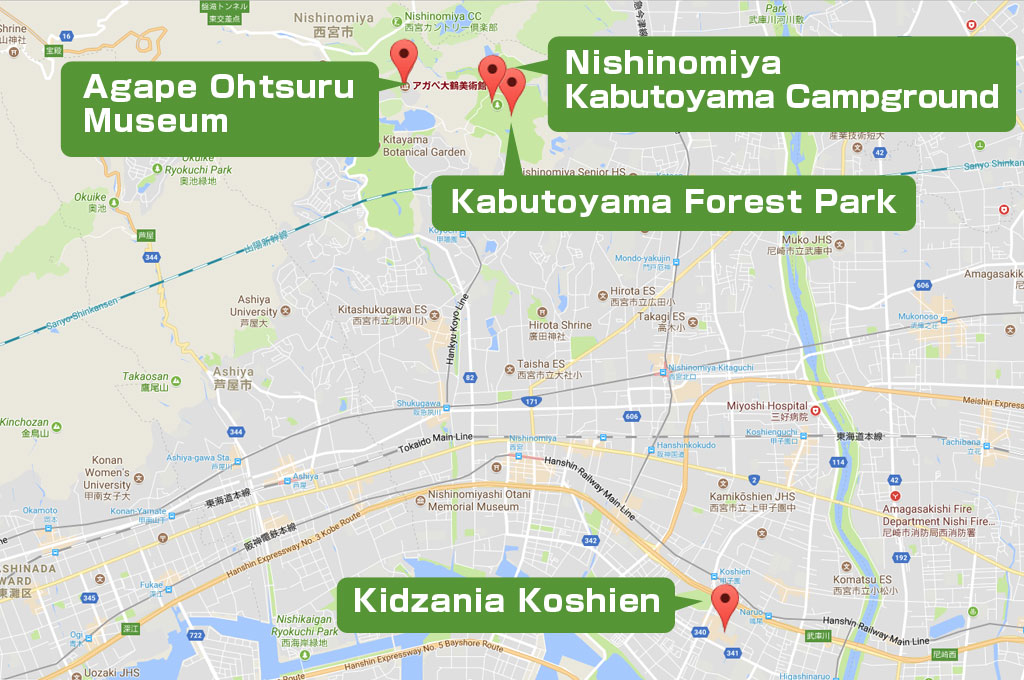 Nishinomiya Kabutoyama Campground
At this campsite surrounded by nature, there are rental tools and equipment such as rice-cookers, etc. and firewood that you can purchase. You can enjoy mountain climbing, river-side play, watching live creatures, and BBQ. Camping is said to groom your problem-solving abilities and cooperativeness. It is an important experience to share feelings of joy with one another.
Shrines and Temples
Heal your soul with a quiet and solemn atmosphere!
Kannoji (Kabutoyama Daishi)
At the foot of the Kabutoyama, you can enjoy the view of the entire city and night-lights after dark.
Its honzon (the principal image of Buddha), the seated Nyoirin Kannon, is one of the 3 Nyoirins of Japan and is considered as one of the country's important cultural property. 「Jinshu」 is said to have a meaning of 「the real words of Buddha」.
Tokoji (Mondoyakujin)
One of Japan's 3 Gods of pestilence. The temple has many visitors on the 18th and 19th of January each year. As this is very famous in the Hanshin area, there are many people who come even on weekdays to drive away the evil spirits. It is known as the God of pestilence of Mondo.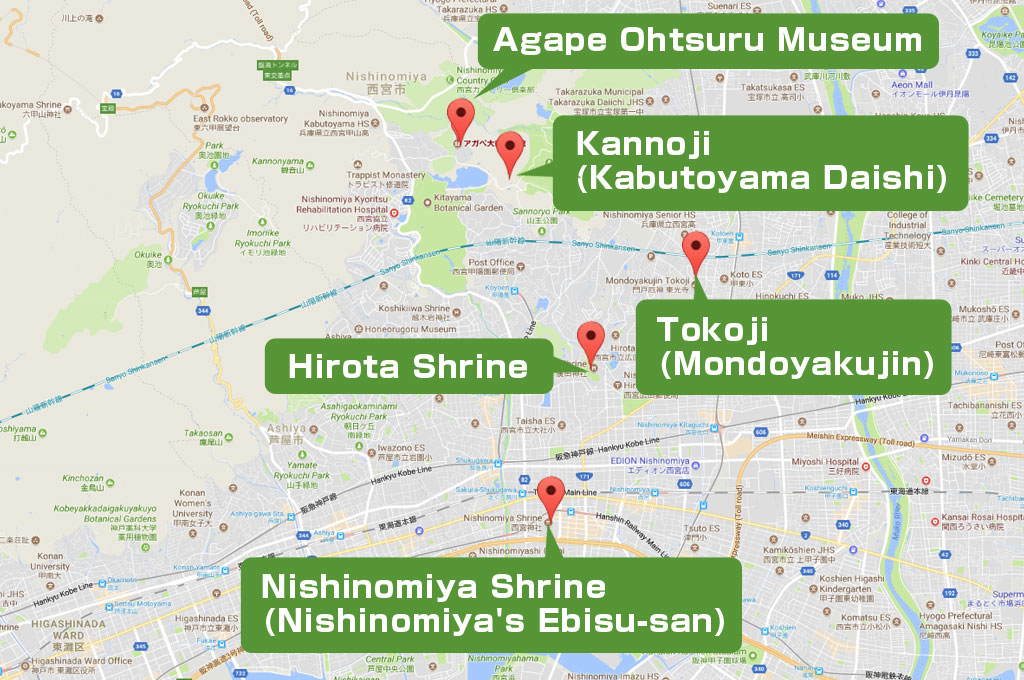 Nishinomiya Shrine (Nishinomiya's Ebisu-san)
This shrine is famous for the event that chooses the Fukuotoko (Properous man) of the year at the Fukutokujin with「Nishinomiya's Ebisu-san」. 「Hiruko Ogami」「Amaterasu」「Susanoo」are the worshiped deities. The main shrine is a national treasure, and the forest of Ebisu in the back of the main shrine is a natural monument of Hyogo prefecture. There are other cultural properties such as the Oneribei and the Omotedaimon.
Hirota Shrine
This is a long-honorable shrine that is written in the Nihonshoki (Chronicles of Japan). The Hanshin Tigers baseball team prays for their victory every April at this shrine. The rhododendron reticulatum, a prefectural natural resource blooms every spring.
Other recommended sight-seeing spots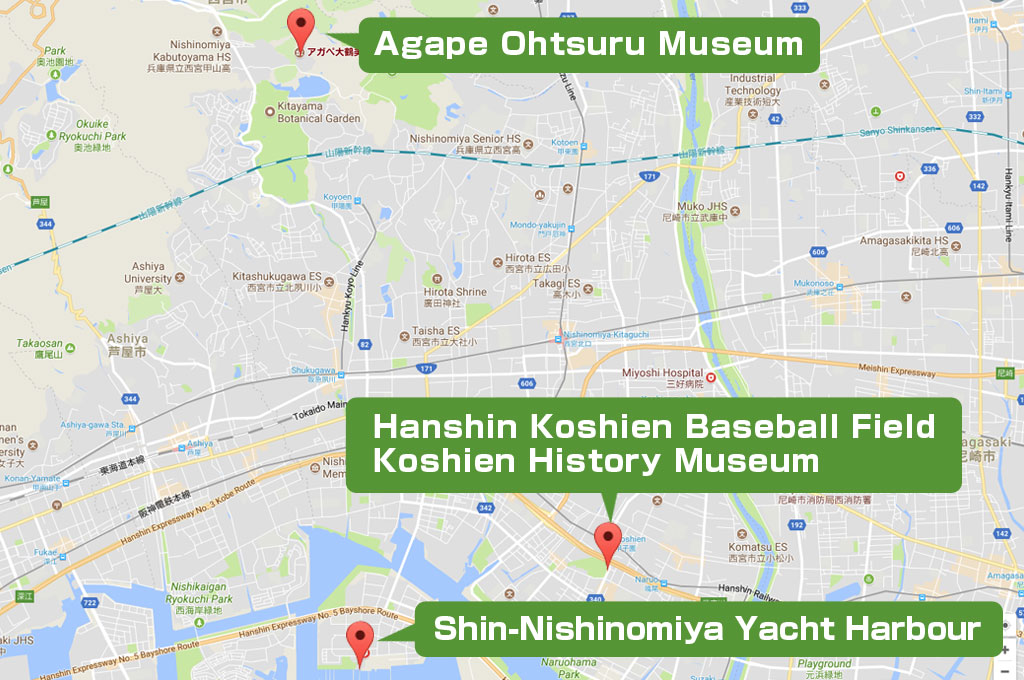 Hanshin Koshien Baseball Field Koshien History Museum
You can enjoy must-see exhibits for fans of high school and professional baseball, video footage of historical scenes, trick-art area, VR bullpen ace experience and footage where you can experience pitching. You can also experience being chosen first from your favorite team!
Shin-Nishinomiya Yacht Harbour
You can enjoy a yacht or boat cruise with a reservation. Even without going on a boat, you can enjoy the ocean wind and the view of the vast ocean. The green area and the promenade is perfect for taking walks! The restaurants and cafes that overlook the ocean is also a must-go.
Lastly
We have introduced to you several sight-seeing spots nearby Agape Ohtsuru Museum.
There are other wonderful places to visit in Kobe aside from the ones introduced here.
We hope that you will be able to spend precious time that would last a lifetime.
We are located just 20 minutes away from Arima Onsen by car.
As we are located near the prefectural road route 82, we are easily accessible by car and you can visit many sight-seeing spots in the nearby area.
We hope that you will come visit us at the Agape Ohtsuru Museum and spend a fun, fulfilling day in Kobe.