The "Mourlot Studios" : Pioneer of Lithography in the 20th Century
There was once a "Mourlot Studio" in Paris. This was a legendary printing workshop which produced many masterpieces and was highly acclaimed by many art masters of the 20th century such as Chagall, Miró, Matisse, Picasso, etc. for its craftsmanship and printing techniques.
The Mourlot Studio was founded by Francois Mourlot in Paris in 1852. It started as a small print shop for commercial prints and wallpaper. Jules Mourlot, the second generation, gradually spread the "Mourlot" name in the printing industry through strategic approaches such was producing illustrations books and producing commercial labels.
Furthermore, Fernand Mourlot (1895-1988), the third generation, made a remarkable achievement in the history of art. In 1921, he converted the printing studio he inherited from his father to a lithograph studio.
In 1930, he created a poster for the "Delacroix Retrospective" held at the Louvre Museum in Paris which was recognized for its high artistic quality.
Here, the artistic lithograph studio "Mourlot Studio" was born.
A note to point out is the collaboration with the French art and literary magazine Verve, which was said to be the most beautiful in the world at the time. Through this collaboration, he actively invited up-and-coming contemporary painters such as Chagall, Miró, Matisse, and Picasso to his workshop, and held hands-on lithograph workshops. These artists were amazed at the high quality of the lithographs produced at the Mourlot Studio and were immediately fascinated by the high degree of freedom of this technique, which allowed them to draw directly on the lithograph.
Unfortunately, the history of the Mourlot Studios ended in 1997 when the fourth generation Jacques Mourlot retired. However, even today, Eric Mourlot, the fifth generation of the Mourlot Family, has inherited the philosophy through "Mourlot Editions (New York)," and continues to introduce the rich world of lithographs full of possibilities and charm.
Lithograph Poster Exhibition by the Masters of École de Paris
This special exhibition will be titled "Lithograph Poster Exhibition by the Masters of École de Paris" and will feature vintage posters produced at the Mourlot Studio by legendary artists of the 20th century.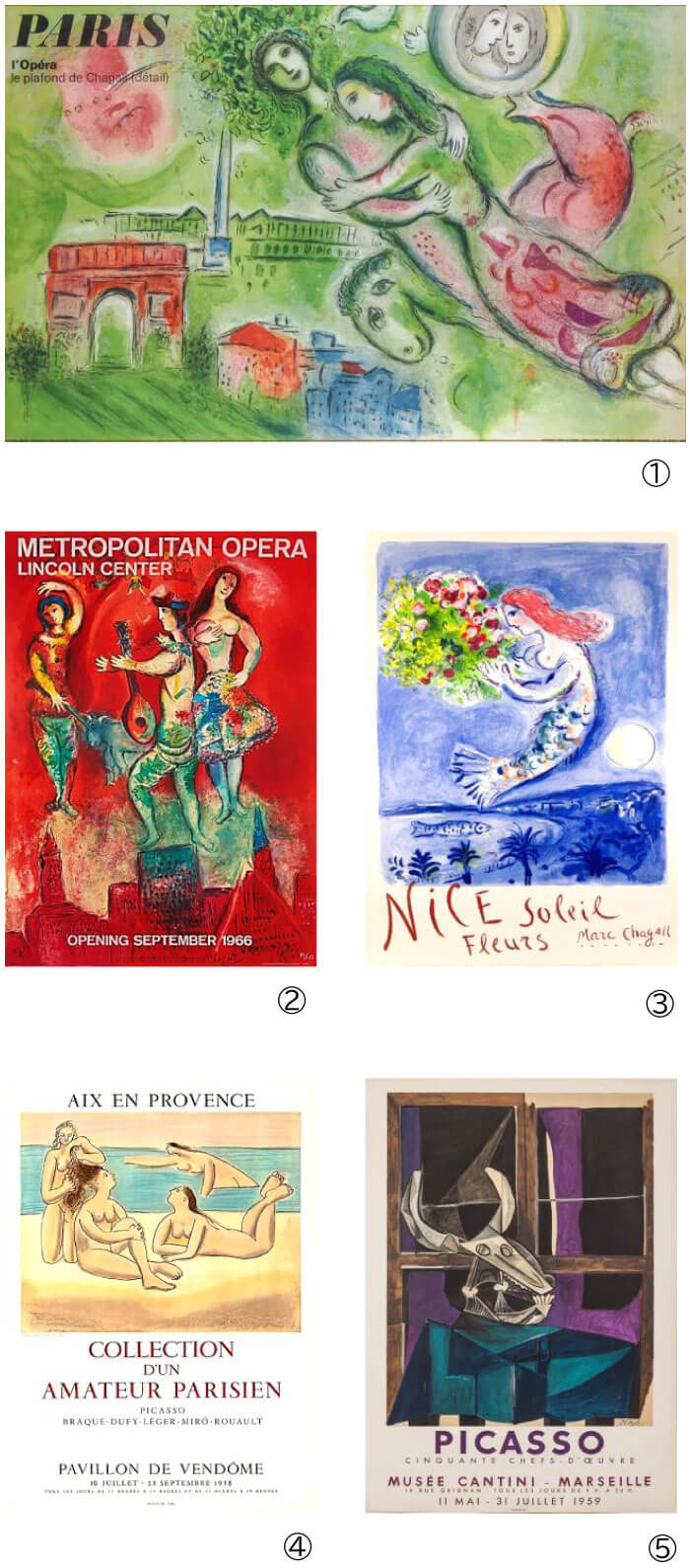 ①Marc Chagall "Romeo and Juliet" Paris Travel Advertising Poster
②Marc Chagall "Carmen" Metropolitan Opera Poster
③Marc Chagall Nice, France Travel Poster
④Pablo Picasso Amateur Parisien Contest Poster
⑤Pablo Picasso "Still Life with a Bull Skull" Musée Cantini Poster
Information
Exhibition Period

June 1, 2023 ~ December 29, 2023