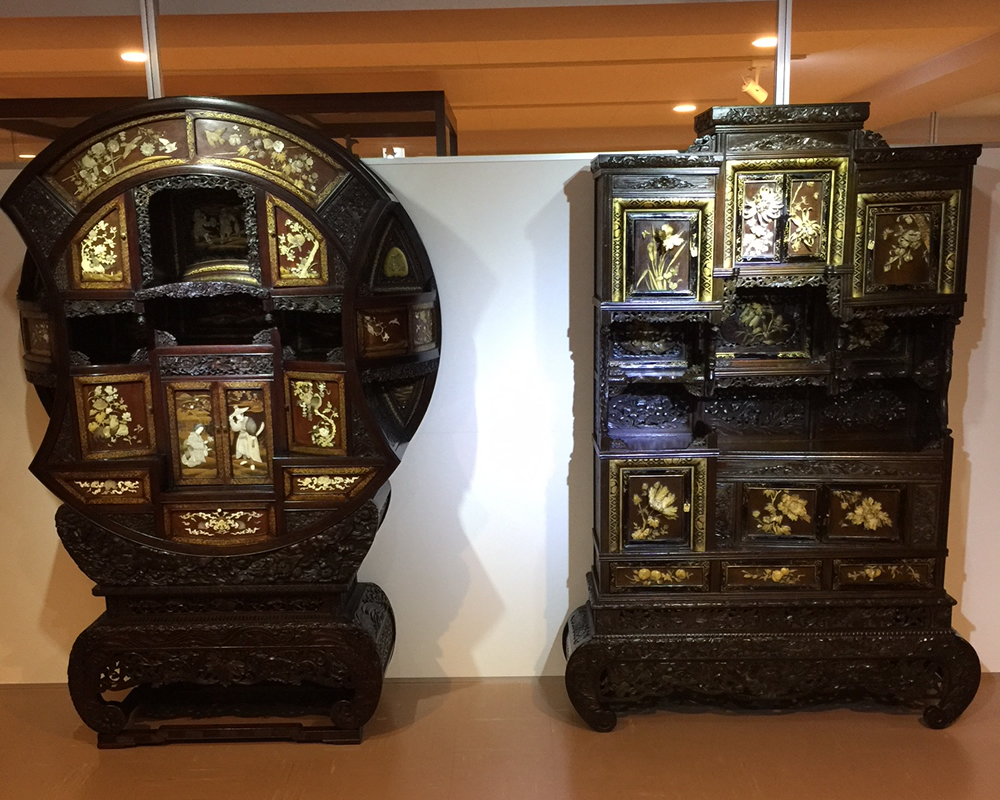 "Shibayama Craftsmanship, a combination of rarity and artistry"
Onogi Senzo Work
 Introduced in the late Edo era by Onogi Senzo (later known as Shibayama Senzo) of Shimousa (present day Chiba prefecture), Shibayama. Shibayama craftsmanship is a drawing of patterns such as flowers, birds, and people on lacquer ware and ivory by utilizing pearl oysters, abalone, coral, ivory, tortoiseshells, etc. and is known for the patterns that rise above the surface of the finish.
 Shibayama craftsmanship widely known in Edo, began creating pieces for foreigners after the opening of the Yokohama Port in 1859. Shibayama craftsmanship works exhibited in the 1873 Vienna World's Fair charmed many and was praised as "Mosaic of the Oriental".
 From then on, large furniture such as wooden partitions and cabinets were also created and exported to Western countries, broadening the "Shibayama" brand in the West.
 This work is a Shibayama craftsmanship cabinet. The rosewood cabinet unsparingly utilizes the characteristics of Shibayama craftsmanship such as usage of mother of pearls, lacquer, and inlay. Furthermore, ivory is also used and the metal fittings are created by utilizing the techniques of the sword hilt of the Japanese katana.
 The round-shaped cabinet is extremely rare and from these works, the reasons of why Shibayama craftsmanship developed and grew in such a fast pace in the late Edo and early Meiji era can be understood. The piece is considered to be extremely rare in all traditional works of art.